Winning with Accountability™
Best-selling book with more than 100,000 copies sold
A must-have book for when you want simple strategies to make accountability real—and to make it stick.
Winning With Accountability™ introduces you to the language of accountability and teaches you how to make and request commitments. When you do both, you increase performance, build key relationships, and create a competitive edge. Based on research with over 250 organizations and thousands of leaders, Winning with Accountability™ provides:
The new definition of accountability
The language which leads to relationship and project failure
The four pieces of the Accountability Puzzle
The power of reflection
Your role in building an accountable culture
A guide to putting it into action
Immediately actionable in about 90 minutes, this book is a simple 'how-to' guide for improving your communication in your very next e-mail, text, meeting, video conference, or phone call.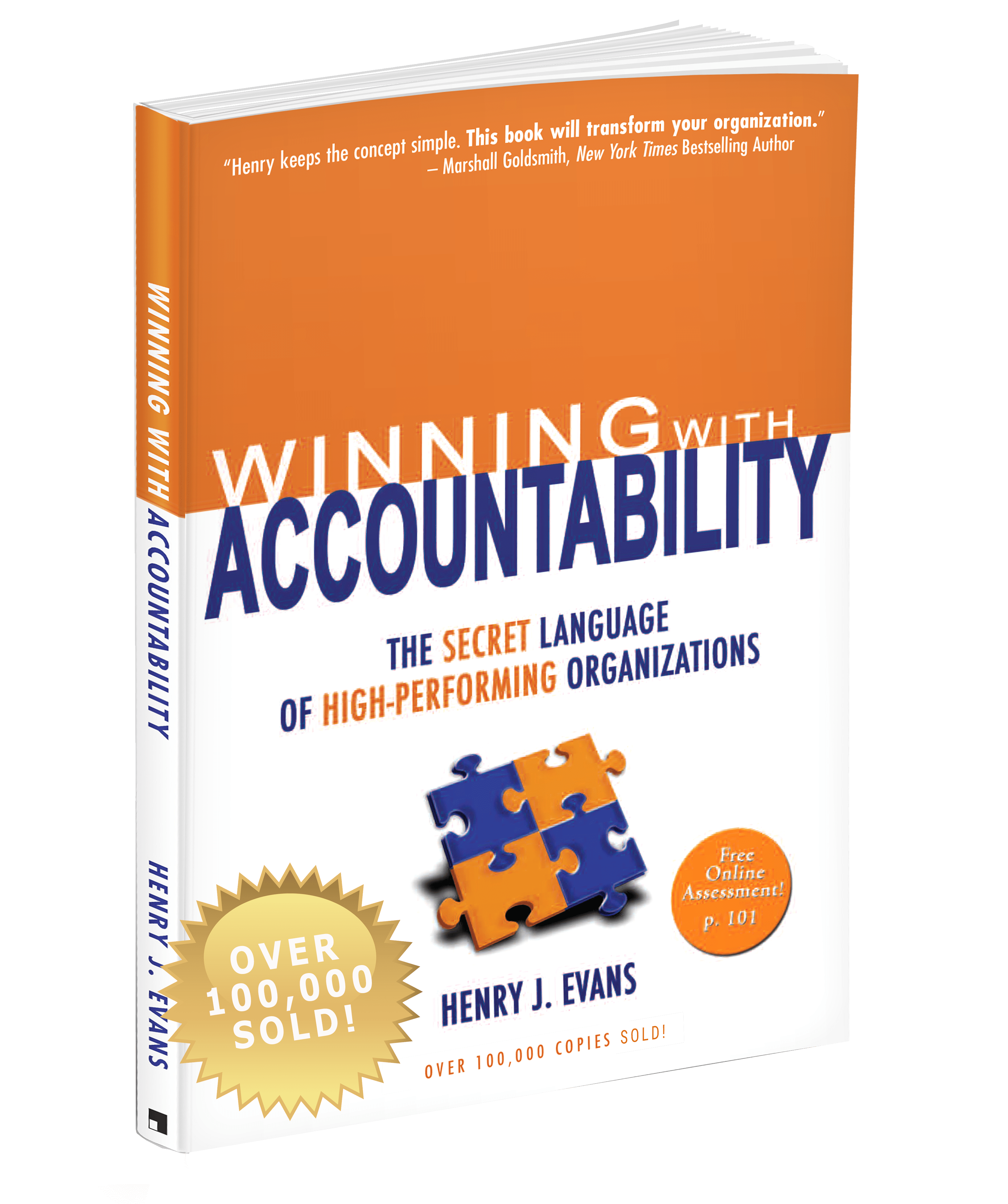 {
"Without accountability, the greatest strategies in the world are not worth the paper they are written on. This book shows you how to
make accountability a part of your organization's culture and improve performance
at the same time. Use the strategies outlined in this book and reap the rewards!"
{
"Boost Your Team's Performance! Henry Evans delivers powerful concepts and practical tips to build accountability, and ultimately, boost team performance. He artfully translates the concept of accountability into simple, actionable steps, then brings them to life with real-world illustrations. Using Evans' language of accountability will create a competitive advantage for any team. A great ROI for a 2-hour read!"
{
"Over the course of my professional career I have read numerous best-selling business books, and after reading each one I would typically keep some of the key insights in mind, but inevitably, this would only last a couple of weeks before those insights lost their impact. This book is different. I recently purchased a copy for my Managing Partner with the intention that we introduce and integrate the book's "accountability language" into our workplace. I fully anticipate this book will change the culture at my firm."
{
"Of course, I read this, nodding my head up and down, and thought, "Ok, I know this…" And then, Henry gave me one of the greatest tools I've received in a long time; he shares "The Language of Specificity." Bottom line: Get this book, read this book, share it with your staff. THEY will thank you for it."
{
"This book presents a wonderful combination of tools, examples and 'how-to' formulas that will inspire people to take on the mission of 'accountability' with confidence and enthusiasm. This is the most effective and interesting teaching and learning tool for accountability I've seen."
{
"This book establishes the basic foundation for achieving success in any organization. And it delivers that message in a way that can be understood easily and applied readily by professionals at any point in their career. Only by creating a culture of accountability can organizations fully achieve their potential and sustain success. This book will become a staple in every company library and a requirement for leadership development courses everywhere."
{
"Winning With Accountability is a concise, easy-to-read guide for any large, medium or small business that wishes to create a more effective organization. I started using these principles before I finished reading the book. Henry pulls no punches in delivering methods any reader can apply immediately."