Over the years, I've amassed more than 10,000 hours of coaching CEO's and others in the c-suite. During that time, I've learned and also developed practices to make high performing leaders, perform at even higher levels.
Today, we're sharing a process we published in our Amazon Top Ten Business book, Step Up, Lead in Six Moments that Matter, called The Prioritization Filter (pg. 78).
You have a to-do list. If you are like the rest of humanity, you don't do everything on that list, even if you intend to. When we coach others, part of that effort is in helping people realize what is realistic. For this conversation, it is about putting your "to-do" list into three categories.
Execution: Own it. You have already, or you will immediately assign the resources required to get this done yourself. The resources we're talking about are generally your time and the organizations money. Another way of viewing this is your, "I will do it" category.
Delegation: You will ask someone else to align their time and effort to accomplishing the task. You're not doing the actual work yourself, and you are being thoughtful enough to recruit or assign someone else so that the work is completed. Think of this as the, "I'll find someone else to do this" category.
Finally, we have the category most people are missing, even if they are otherwise high performing. We call this Elimination: Get honest with yourself and decide, or in some cases admit to yourself, that you won't be doing this. For example, if tasks you've been meaning to complete for a long time, show evidence that you won't do them, why not throw them out and acknowledge that? If that decision makes you nervous, you must assign resources through one of the previous categories, execution, or delegation. Otherwise, call this category, "I won't do this". Sometimes, this involves calling people and having a tough conversation where you renegotiate your original commitment.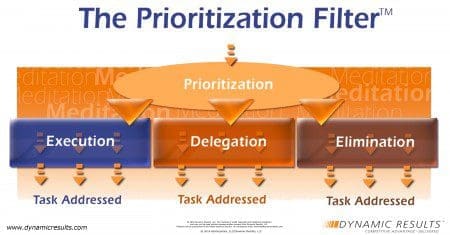 Taken from page 78 of our Amazon Top 10, Best-Selling Book; 'Step Up, Lead In Six Moments That Matter"
If you use this tool to sort your "to-do" list, once a week, you will notice yourself doing what is most important and you will travel home feeling like what you didn't get done, was less important that what you did get done.
Our intention is, that by watching this video, you have learned how to apply this practice. If you would like a downloadable image of the Prioritization Filter and/or a deeper explanation, you will find both in our book, on and leading up to page 78.
As always, we appreciate your attention, and for additional ideas, follow me on twitter: @HenryJEvans
Connect with us on LinkedIn to share your experiences, or email us at [email protected].
Thank you.